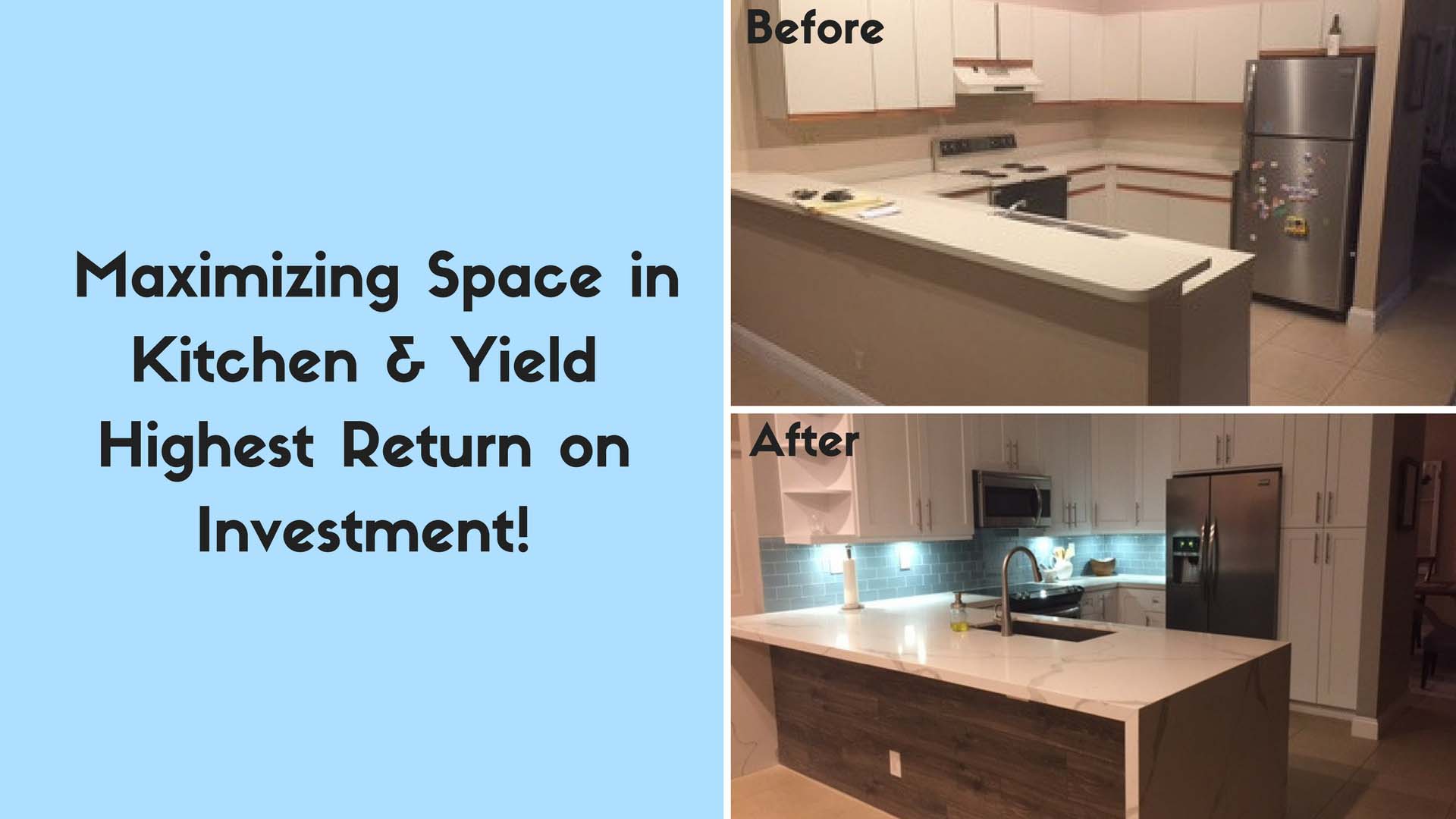 Kitchen renovations can be very daunting for homeowners. So many choices relating to cabinets, general layout, backsplashes, fixtures, and don't get me started on counter tops. Not only can you get lost in the difference between quartz versus quartzite versus granite versus marble, but colors and designs can dizzy even the most calm-headed renovator.
But what is universal in getting the most bang from your buck is maximizing space in your kitchen. Being smart with space can really help boost your return on investment. Here are some tried and true tips for maximizing space:
1. Perception is Reality: There are so many great design tricks that a homeowner can use to make their kitchen appear more grand than it really is. Take, for instance, your color palette. Go with lighter tones and automatically expand the space. Another great design technique is to take your cabinets and make them as tall as possible. You will be pleasantly surprised what a 42 inch upper cabinet can do for your kitchen. It vertically stretches the kitchen and makes it feel larger than life.
2. Storage, Storage and More Storage: No one wants to clutter their counter tops, especially if its of a beautiful, show-stopping quartz or marble. So doesn't it make sense to create as much storage as possible to house your pots, pans and small kitchen appliances. In your lower corners, place lazy susans. They are incredibly functional and add tons of storage space. If you don't have a pantry, try to fit one in. You will be amazed how much kitchen space boxes of cereal, canned goods and the like take up. The pantry, even a small one, can really help with storage. I know I mentioned this above but getting 42 inch upper cabinets is helpful with space. Not only does it make the kitchen look taller but it can add as much as 15% to your cabinet storage. For the items that you only use once a year (like that Thanksgiving Platter) hide it away on the very top shelf.
3. Open Concept: Many of the Florida homes and townhomes built in the 80s and 90s have a three quarter high top. Although somewhat functional, it really cuts the space of the kitchen from the living area. When you do your renovation, instruct your contractor to make the entire counter top one level. You will be incredibly surprised how open an airy your kitchen will feel. And as a bonus, your beautiful counter top will no longer be hidden behind a bar top. Instead it will be showcased for all to see.
Of course, there are other tricks of the trade to get the biggest return on a kitchen renovation, but you get the picture. Taking your time and making smart decisions with space will result in prolonged enjoyment of your kitchen and a much easier time when you're ready to sell.
To see these kitchen design tricks (and others) in maximizing space and getting the biggest ROI, please watch my video
I'd love to hear your comments.