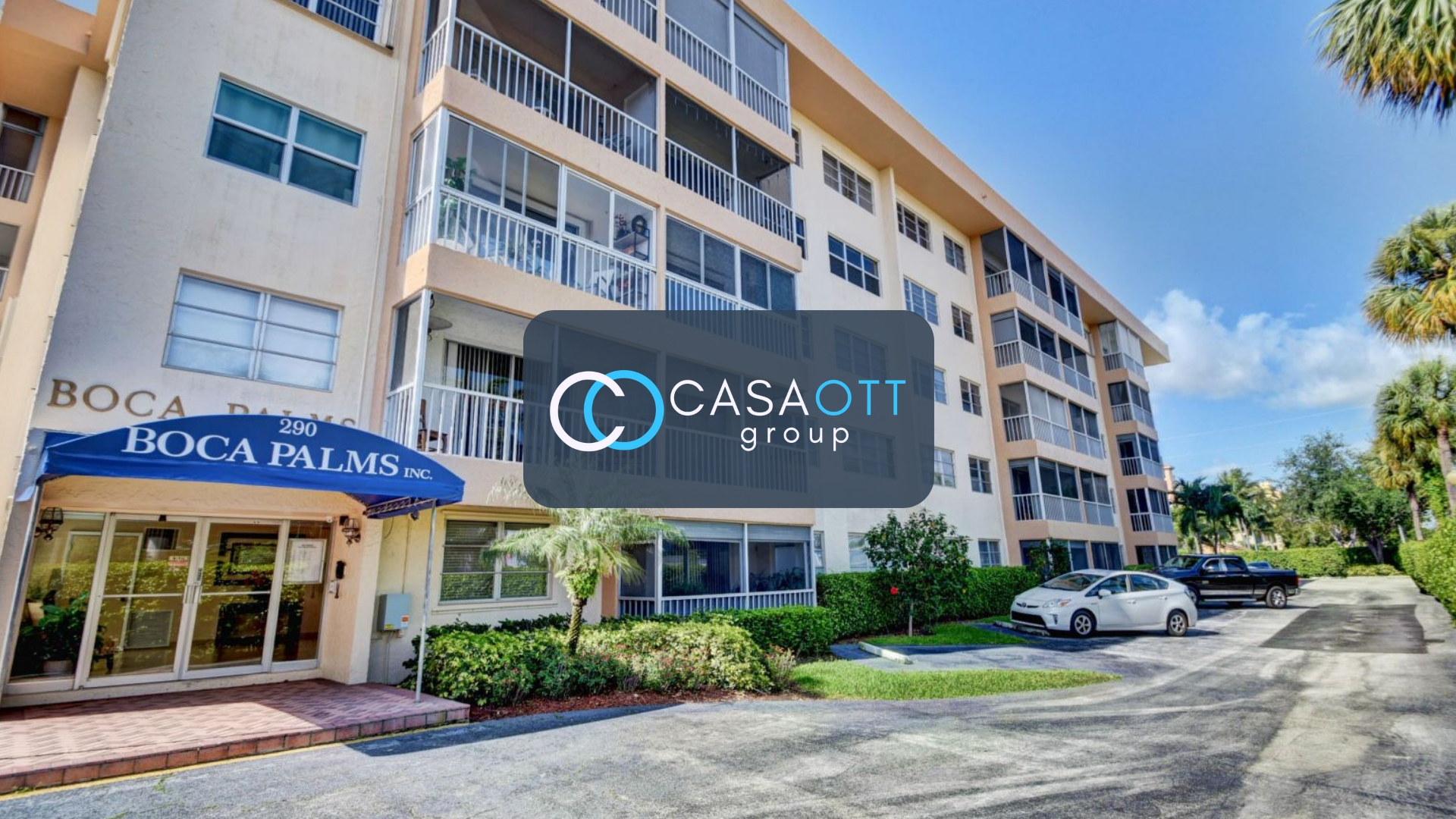 Recently, the Casa Ott Group has been fortunate enough to list and sell multiple units in Boca Palms (specifically the 290 building). During this time, we have truly come to appreciate what this building offers the community and its residents.
So lets start off with some basic facts about 290 W Palmetto Park Rd and Boca Palms. Built in 1972, Boca Palms is 5 stories high with 62 total units. Most of the units are 2 bedroom and 2 bathroom with 945 square feet under air. There are a few 1 bedroom units, which are approximately 700 square feet. All condos are appointed with covered and screened in balconies, walk in master closets and linen closets. The kitchens, when they were initially built, were open to the dining area but closed to the living area. Many of the residents have open the kitchen entirely, making the space appear larger and more airy.
The lobby is quaint, having several seating arrangements and a group of mailboxes tucked away in the back corner.
So what made the Casa Ott Group appreciate this building so much? Location and price! The location is quite nice as Boca Palms is only 1.33 miles from the beach. Yes, you can literally walk to the beach from your unit!!! And on your way to the beach you can experience all that downtown Boca Raton has to offer: Fine dining, shopping and a wonderful nightlife that will please the locals and transplants alike. Now on to the pricing. The pricing at Boca Palms cannot be beat. Where are you going to find a condo this east in Boca Raton well under $200,000. And where are you going to find condo fees well under 300/month. By the way, included in your fees are the following:
Pool
Communal washer and dryer
Elevator
Water
Janitor services (you can literally eat off the floor as the cleaning crew comes several times per week!)
Pest control
Insurance on building
Outside maintenance
This is an all ages community, so there are grad students commuting to FAU, snowbirds who come down during the winter and locals who just enjoy all that Boca Raton has to offer.
There are no pets allowed and there are significant renting restrictions to ensure that Boca Palms does not become a Airbnb.
For more information about this hidden gem, please contact the Casa Ott Group today.